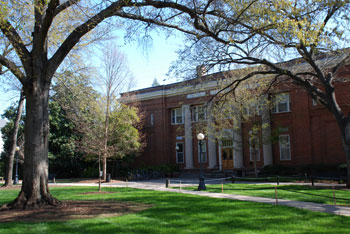 Philosophy seeks to answer fundamental questions about the nature of reality and our knowledge of it; about the sources of meaning and value in human life; and the relationship of human beings to each other, to the natural world, and to the built environment. Our department is pluralistic in outlook, representing analytic, continental, historical and non-western approaches to philosophy. Our faculty have national and international reputations in their research fields, and strive equally for excellence in teaching and mentoring students. 
Interdisciplinary Programs
We participate in three interdisciplinary programs, including an Environmental Ethics certificate, and a certificate with the Institute for Women's Studies, as well as a M.S. with the Institute for Artificial Intelligence. We also offer an undergraduate minor in Law, Ethics & Philosophy in partnership with the School of Law.
Attend one of our lectures
The Scott and Heather Kleiner Lecture Series brings academics from across the country to our campus. 
Meet Our Student Ambassadors
The Philosophy Ambassadors are undergraduate students with a passion for knowledge, who volunteer in promoting the Philosophy major across campus. 
A message from Ambassador Crystal Amoako:
A message from Ambassador Lauren Brakke: