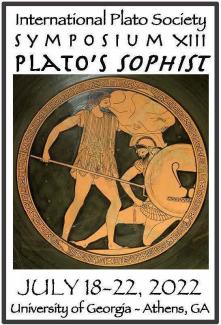 As current president of the International Plato Society, Edward Halper, UGA Department of Philosophy Distinguished Research Professor and Josiah Meigs Distinguished Teaching Professor, is the primary organizer of the IPS's Symposium Platonicum XIII: Plato's Sophist, welcoming dozens of esteemed Plato scholars from around the globe to this event at UGA's Terry College of Business July 18-22, 2022.
International Plato scholars have gathered in a different city around the globe triennially since 1986 for this event, but this year marks the first time it is being hosted in the United States. Symposium XII's focus is on Plato's Sophist, the late-period dialogue addressing questions pertaining to the nature of being, image, metaphysics, logic, and language.
Halper is happy to see the resumption of IPS in-person meetings as recent regional and last year's mid-term meetings moved online due to the global covid pandemic. "Opportunities to interact with other people doing this work have been really valuable," says Halper, who has attended all but the first two Symposia Platonicum. "Every one I've gone to has been a great academic experience."
This year's symposium culminates with a banquet in the Russell Special Collections Library. The symposium will be an expanded hybrid event supplemented with additional parallel sessions including online talks. Ongoing travel uncertainties due to the pandemic as well as wartime challenges in eastern Europe have prompted organizers to broaden the list of speakers to assure a full schedule. "People are coming from around the world," says Halper, noting that over 100 abstracts in the IPS's five official languages have been accepted.