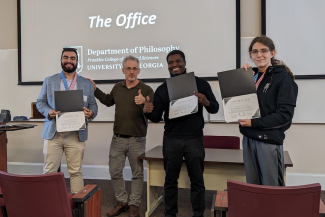 On Saturday October 22, the Department of Philosophy held their very first Ethics Bowl as part of the Ethics Awareness Week activities across campus. "In their presentations and discussions, the student participants truly exemplified several of the key virtues of ethical discussion: the principle of charity, attention to nuance, and identifying the core ethical tensions in complex situations," explains assistant professor Jeremy Davis, primary organizer of the Ethics Bowl, which was supported by UGA's Internal Auditing Director, Matthew Whitely a primary organizer of Ethics Awareness Week. We wouldn't have been able to do the event without his support," notes Department of Philosophy head, Aaron Meskin.
Eight teams totaling 21 undergraduate students participated in multiple rounds considering cases of poignant ethical questions drawn from contemporary social dilemmas touching upon subjects including proxy interviewees, cancel culture, marginalized authors, virtual therapy, LGBTQ issues, facial recognition, and personal vs. professional lives.
"I was excited for us to try this novel format for an ethics bowl event—one that, to my knowledge, hasn't ever been tried elsewhere before," notes Davis. "It was really inspiring to see so many students engaging with contemporary ethical challenges in a civil and productive way."
"I had never seen an ethics bowl in action, and it was exciting to see the students really engaged, having fun, and working hard at the event. We definitely plan on doing it again next year," Meskin adds.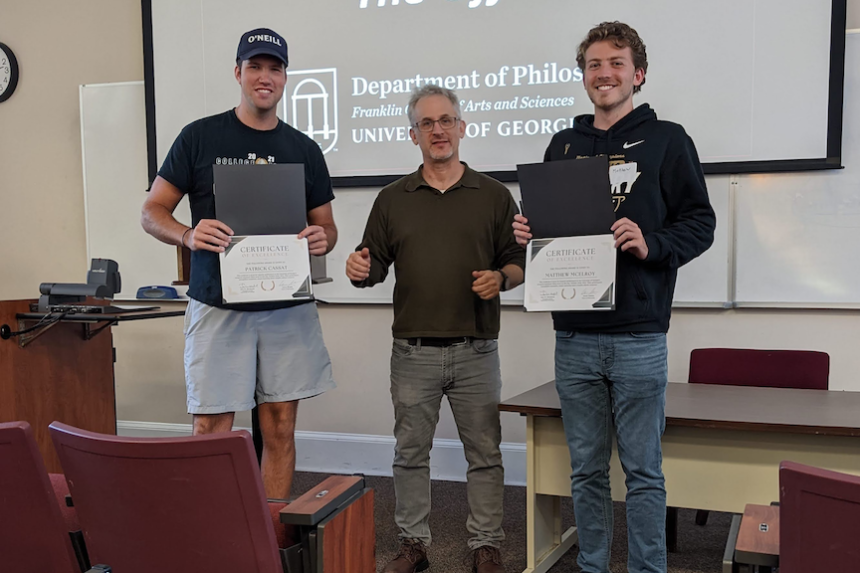 The winning team, "The Office," included Stephen Black, a fifth-year linguistics major; Pandora Paterson, a fourth-year mechanical engineering major with a minor in astrophysics; and Lucas Deibert, a fourth-year marketing major. The second-place team, "Awesome Sauce," was made up of Matthew Mcelroy and Patrick Cassat.
"My favorite part of the ethics bowl was probably the debate regarding the Jeffery Dahmer documentary and whether it should have been tagged as LGBTQ content," says winning team member Pandora Paterson. "I myself am a trans lesbian and believe that the issue is very nuanced and that I could discuss it for a long time if given the chance, but I was very proud of the answers that I was able to give and confident in my simplification of opinions into something viable for the position we were in."
"The thing I enjoyed the most was the atmosphere between the rounds—everyone was so friendly.," says Stephen Black, also of the winning team, The Office. "The judges were super fun to talk to after our rounds about the cases and the competitors were all super nice. I loved the atmosphere that the event fostered." 
The full slate of Ethis Bowl teams included:
The Office (Winning Team)
Stephen Black 

Pandora Paterson 

Lucas Deibert
Awesome Sauce (2nd Place Team)
Matthew Mcelroy

Patrick Cassat 
Here for Extra Credit
Lance Elliott 

Willie Lin

Lena Ayoub
The JJC 
Jenna Henninger 

Jack Steiner 

Caroline
The Dawgs Dilemma
Camille Weindorf 

Aaron Johnson 

Sam Mcentyre

Jason Hollenberg 
Galley-La
Abhiram Kalvakuntla 

Danush Kaveripakam 

Akshay Para 
Ridley & Rachel 
Rachel Dahmer 

Ridley White
Mediocrates 
Quintin Gallardo