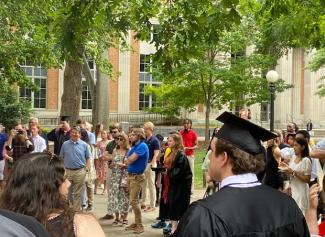 The Department of Philosophy hosted a reception and awards presentation on Friday, May 13 to recognize Spring 2022 graduates and award recipients. Students and their families gathered for refreshments in front of Peabody Hall as department head Aaron Meskin and associate professor Piers Stephens recognized this year's scholarship and award winners. Undergraduate coordinator Athanasios Samaras presented all graduates with a gift bag containing a commemorative mug and other items. 
Congratulations to the 2022 graduates of the Department of Philosophy:
Himani Yadav (Blackstone scholarship recipient)
Kyle M. Fromme 
Dymariah T. Patterson 
Georgia A. Booth
Justin R. Moore 
Deana Truong
Matthew J. Aldridge
Luke J. Armao
Katherine A. McCaw
Thomas W. Bagwell
Samuel J. McCarty
Catherine C. Gelting
Lauren A. Brakke 
Hannah Rakoski
Tate A. Poole
David Hauser (Severens scholarship recipient)
Maleigha S. Cooper
Grace M. McGibney M.
Carter H. Quinn
Sang Won Bae
Benjamin J. Barrett
Elizabeth A. Quilliams
Rebecca C. Merriken
Andrew K. Zach (Harrison scholarship recipient)
Reed T. Ratonyi 
Grant W. Sublette-urry
Cavor J. Hinkson
Cameron J. Gamble
Joseph F. Hiley
Joshua J. Reeder
Cole W. Miller
B Nuvindu Anjana D. Fernando
Nicolas Fricia
Stella E. Zeephat 
Joshua R. Wright
Aidon B. Minzenmayer
Asadullah Khan