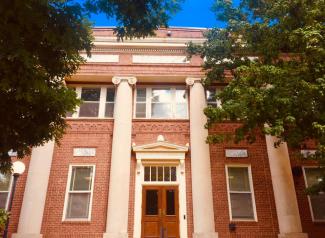 The Department of Philosophy announces the Fall 2021 through Spring 2022 lineup for the annual Scott & Heather Kleiner Lecture Series. We are proud to present renowned Philosophy scholars from around the globe presenting important talks on a wide array of relevant philosophical topics. This year's schedule of Kleiner lectures includes:
September 23, 2021 
Jonathan Wolff  (Oxford University)
"Inequality in the City" (online)
Thursday, October 14, 2021

 
Sarah Mattice (University of North Florida)
"On the Uncanny Goodness of Being Eclectic: Or, Guanyin as Philosophical Exemplar" (in-person) 
Tuesday, October 19, 2021
Andrea Scarantino (Georgia State University)
"Emotions as Motivational Systems: 'Our Best Bet for Ascribing Emotions to Artificial Creatures'" 
online lecture, co-sponsored with the UGA Institute for Artificial Intelligence 
Wednesday, November 3, 2021 
Sergio Gallegos (City university of new york) 
"Monstrosity as a Pedagogical Tool: Socrates, Montaigne, & Sor Juana"
in-person lecture, co-sponsored with the UGA Latin American and Caribbean Studies Institute
Wednesday, November 10, 2021 
CDC Reeve (university of north carolina) 
Thursday, November 18, 2021 
Magdalena Holy-Luczaj (University of Information Technology and Management, Rzeszow Poland)
"Heidegger and the Environmental Aesthetics of Everyday Artifacts"
in-person lecture, visiting Fulbright scholar
Wednesday, December 1, 2020
"Rage Renegades: A Message to 'Allies'"
online lecture, co-sponsored with the UGA Institute for African American Studies
Thursday, January 27, 2022
Tom Dougherty (University of North Carolina at Chapel Hill)  
in-person lecture, title TBA
Thursday, February 3, 2022
Ted Poston (University of Alabama)
in-person lecture title TBA
Thursday, March 3, 2022 
Ryan Nefdt (University of Capetown)
online lecture title TBA, co-sponsored with the UGA Department of Linguistics
Thursday, March 24, 2022
Shannon Spaulding (Oklahoma State)
in-person lecture title TBA
Thursday, April 14, 2022
Melissa Burchard (University of North Carolina at Asheville)
in-person lecture title TBA