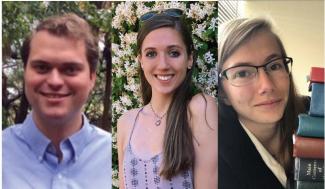 Congratulations go out to three Department of Philosophy undergraduates who have earned recognition for their writing as undergraduate students.
Marc Biemiller, 2020 graduate who double-majored in Philosophy and Music, had his paper "Augustine and Plato: Clarifying Misconceptions" published in the Fall 2019 issue of the journal Aporia. "I first began to read Augustine in high school and immediately noticed his obvious connection with Plato, the idea behind this paper goes all the way back to then," explains Biemiller. "Furthermore, there is personal connection to the topic because as a Theist, the metaphysical questions regarding God and creation are very interesting to me." Biemiller has accepted a teaching assistantship at Florida State University where he plans to earn his MA in Philosophy, eventually pursuing a PhD and a career as a professor of philosophy.
Rising senior Grace Kiersznowski, published her article 'Rousseau and Rawls on Legitimacy and Justice' in the current issue of The Classic Journal, an online publication dedicated to showcasing critical writing and research composed by University of Georgia undergraduate students. "I argue that while the work of Rousseau provides a significant contribution to the history of social contract theory, Rawls' work in A Theory of Justice provides a more complete account of how to secure societal justice," explains Kiersznowski.
Additional recognition goes to 2020 graduate Valerie King for her essay, "An Experiment in Reading: Judith Butler's Gender Trouble and Ethical Citation Practices," which earned the first place Senior prize from the UGA Libraries Undergraduate Research Awards. "My research, in critiquing the limits of Patricia Collins' and Sarah Ahmed's approaches, provides a new citational framework examining both the function and the effect of citing before addressing the normative question of how one ought to cite," explains  King, who will be pursuing her PhD in Philosophy at DePaul University.