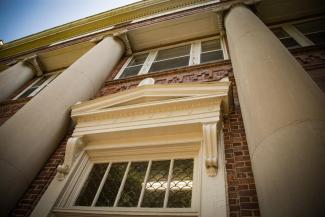 Several UGA Department of Philosophy undergraduate students have been selected to present papers at conferences throughout the Spring 2020 semester: 
Marc Biemiller, a 4th-year Philosophy and Music major, presented a poster of his paper on Augustine at the Annual Meeting of the American Philosophical Association in Philadelphia in January and recently gave the same paper at the Southeast Philosophy Congress at Clayton State University.
Spencer Caro, a 4th-year Philosophy and Statistics major, will present his work on Dworkin's Law at Southern Utah University's Annual Undergraduate Philosophy Conference.
Matilda McNeely, a 4th-year Philosophy and English major, recently presented a paper on "Aristotle and Women" at the Georgia Philosophical Association annual meeting in Macon, this year themed "Suffrage and Democracy."
Alex Quinlan, a 4th-year Philosophy and History major, will give a paper on Monty Python and Postmodernism at the Richard Macksey National Undergraduate Research Symposium at Johns Hopkins University in Baltimore in April.
Anila Yoganathan, a 4th-year Philosophy and Journalism major, will present her work on "Plato and the Female Body" at the Feminism and Classics 2020 Conference themed "Body/Language" at Wake Forest University in North Carolina in May.