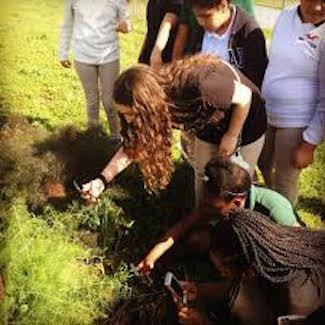 The Department of Philosophy has launched the new course, Philosophy for Children (PHIL 3900S) for the Spring 2021 semester. Developed and taught by PhD student Michael Lindquist in partnership with the UGA Office of Service Learning, twenty-one students are enrolled this semester. The course allows UGA students an opportunity to to fulfill UGA's experiential learning requirement by engaging with with K-12 students via teen programs at the Athens-Clarke County Library and children's gardening programs at the East Athens Community Center and Thomas N. Lay Park, and by developing teaching materials for Barrow County School System's Center for Innovative Teaching and Learning.
"We are really excited to be running our first service-learning course this year. Michael Lindquist has done stellar work designing the course and making connections with community partners," says department head Aaron Meskin. "This will be a great opportunity for students to explore philosophy outside of the university context and engage with the local community."
"I've always enjoyed working with kids," says Lindquist, who had a former career as an environmental educator. "Looking back at my own experience in middle and high school, there wasn't that much opportunity for real interesting critical engagement. I hope this experience gives kids a space to open up and think about things in a way they might not be getting in school."
At the East Athens Community Center and Thomas Lay Park, service learning students have an opportunity to engage directly with elementary school-aged children through the outdoor "Grow It Know It" gardening and food program, allowing them to do environmental philosophy and enabling philosophical engagement via STEM fields. While Athens-Clarke County children have been confined to online learning for most of the past year, this outdoor program offers a particularly beneficial experience in such challenging times. 
"Kids are just thriving when they're hanging out in-person even for just a few minutes," explains Wick Prichard, director of the Grow It Know It program, noting that most children in this program are from under-resourced communities and particularly in need of additional engagement. "This program is filling in a lot of gaps right now and creating a space where the kids feel special and people are investing in them," he continues, noting the positive impacts of philosophical engagement in such a setting for both the children and the UGA students.
"A garden is a very level playing field, children will interact with each other differently in a garden than they do in outer society," he continues. "In many ways it removes any hierarchy and the conversations that result essentially tell them, 'I care about you because I'm asking you to use your brain'—you're learning as much from these children as they do from you."
The program at the Athens-Clarke County Library is an online experience involving middle and high schoolers. "We are creating a club that allows kids to ask better questions and lead to better critical thinking skills," explains Teen Services Regional Coordinator Jen Schumann, noting that the program will appeal to teens' innate social nature. "Our hope is that we can create this connection with service learning students and encourage them to come back, live and in-person. I think they'll really enjoy talking to one another and engaging with UGA students."
Lindquist hopes that the course will be part of regular Department of Philosophy curriculum moving forward, appealing to philosophy majors as well as to education majors who will soon make practicing philosophy part of their everyday careers. "A great way to learn about teaching is by teaching—not only do we learn about working with kids, but we actually work with kids," he explains. "Philosophy has something important to offer kids pre-college. It's always great to see what kids are capable of, sometimes we sell them short…they're likely to surprise you."