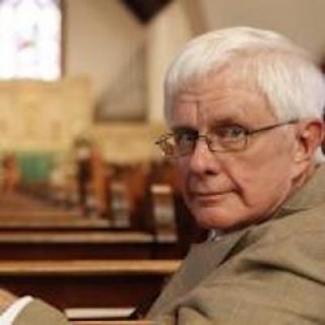 Longtime University of Georgia Professor of Philosophy, Frank Harrison III passed away on April 16, 2020 peacefully surrounded by loved ones. Harrison had retired from teaching in May 2017 and relocated to Marietta, Georgia to be near his beloved family.
Born in Jacksonville, Florida in 1935, Harrison attended college at University of the South in Sewanee, Tennessee and was awarded his MA and PhD at University of Virginia in Charlottesville. He came to the University of Georgia in 1962 where, upon his retirement, he held the distinction of being the longest-serving faculty member in the history of UGA.
The scope of Harrison's teaching encompassed the philosophies of religion, science, language, and the mind, as well as ancient, medieval, and contemporary philosophy, metaphysics, epistemology, and logic. He was a fervent defender of the liberal arts, critical thinking, and both science and religious faith, relishing intellectual inquiry as a way of life.
While Harrison's record of scholarly accomplishments and professional service is long and distinguished, he will be remembered most fondly as a teacher. Harrison deeply loved teaching and formed long-lasting bonds with many of his students.
"Frank was timeless in his insistence that, despite the University's ever-increasing emphasis on research, all of us in the Department remember the importance of the University's teaching mission and formulate our policies to further it," recalls Edward Halper, Distinguished Research Professor and Josiah Meigs Distinguished Teaching Professor. "He himself was entirely dedicated to this mission. He took his classes very seriously and he was devoted to his students… He had quite a following, and he was able to have an enormous impact on their lives."
"Frank Harrison was my teacher, mentor, and later my friend. He taught me to think, and to not only live, but to live well. I will forever be a seeker of the Good, True, and Beautiful because of his generous teaching and wise tutelage," recalls former student Timothy Burger, who first met Harrison in a Logic and Critical Thinking class in 1998. "We had a relationship that continued through undergrad, my graduate studies in theology, and MFA studies in writing—even the adoption of my children. I am surely better for having known him." 
Harrison was awarded the Josiah Meigs Distinguished Teaching Professorship in 2000, was the longtime undergraduate coordinator in the Department of Philosophy, advised the Phi Kappa Literary Society, was for many years regularly invited to speak before new students at Freshman Orientation, and for decades hosted a weekly gathering at a downtown Athens pub, inviting undergraduates, graduates, and faculty members alike to join him in philosophical discussion outside the classroom.
"Frank was curious about what I was learning, and did not need an official purpose to inquire about it," says Ian Altman, a teacher of English at Athens' Clarke Central High who was a student of Harrison's in the 1990s. "Our discussions were rich and varied, and I always found him to be a careful, sympathetic, and critical listener and conversationalist. Aside from philosophy, we had many excellent discussions in his office about literature and music, and about the nature of teaching and schooling. Years down the road, all of those talks came to bear on my professional life, and I've always been grateful to him for that. He was generous with his vast knowledge, never condescending, but unfailingly supportive."
Harrison kept in touch with many students long after they'd left the university, expressing sincere interest in their careers and ever-developing intellectual pursuits. David Ragsdale met Harrison through his involvement with the Phi Kappa Literary Society. "I grew to learn about his vast education, his passion for teaching and learning, and how accomplished he was as a scholar—I was inspired. However, what was most enjoyable were the moments off campus for dinner to discuss modern education and politics," he recalls. "Even after I graduated, Frank stayed in touch and was always interested in my growth as a public school teacher and wanted to know what amazing work my students were engaged in at Clarke Central High School. He was truly an inspirational figure and will be missed."
Harrison's profound influence on and lifetime friendships with former students who then went on to become teachers themselves are a testament to the lasting impact he will continue to have on future generations of scholars. Before retiring, he worked tirelessly to establish the Frank Harrison III Scholarship in the Department of Philosophy at UGA to provide financial assistance for students majoring in ancient and medieval philosophy, allowing his memory to live on into perpetuity by continuing to assist the students he held so dear.
A consummate Southern gentleman, with the stereotypical lilting drawl, friendly approach, polite mannerisms, and dapper attire, Harrison possessed a deep sense of empathy and egalitarianism that enabled him to form fond, close, and lasting relationships with many whom might be seen as his polar opposite. He had a particularly close friendship with former department head and ecofeminist scholar Victoria Davion, who passed away in late 2017.
"I worked closely with Dr. Harrison over the years as his Assistant to the Undergraduate Coordinator. He was always kind and thoughtful and regularly brightened my day by reminding me to 'keep smiling,'" says Nancy Hines, Administrative Associate in the Department of Philosophy. "It was a pleasure working him and he will truly be missed." 
"Frank Harrison was always a good friend and loyal mentor," recalls Mark Faller, who was a graduate student in the UGA Department of Philosophy in the 1990s.  "For those suffering through the existential trauma of a graduate purgatory, Frank Harrison always had a watchful eye, a sensitive ear and a strong shoulder. His relaxed style of making everyone feel comfortable belied his genuine concern for the welfare of those around him. There are many of us who owe our survival to having a caring human being like Frank Harrison in the department."