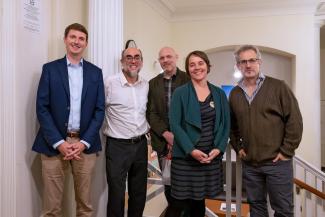 The Department of Philosophy coordinated with the Franklin College Office of Development and Alumni Relations in hosting an Alumni Panel on November 5, 2019. Four distinguished alumni gathered with department head Aaron Meskin and a group of graduate and undergraduate students to discuss what studying Philosophy at UGA meant to them and how it helped them get to where they are today. Panelists included:
Dr. Peter Ahumada (PhD Philosophy '15) -- Peter studied mathematics and chemistry at Massachusetts Institute of Technology for thirteen years. His dissertation at the University of Georgia was on linguistic philosophy. He currently teaches mathematics at the University of North Georgia, Gainesville. He has written three books and, although he would welcome publication at some point, he is happy to present them on his website, philosopher.com. 
Ian Altman (AB Philosophy '04, MED English '06) -- As a Double Dawg, Ian is currently an English teacher and department chair at Clarke Central High School in Athens. He has rewritten the local school district's American literature curriculum to include a wider array of marginalized voices, and led professional development for English teachers in the county. For the last four years, he has been a member of UGA's Institutional Review Board, reviewing research proposals that deal with human subjects for conflicts of interest and other ethical issues. Learn more about how Altman's study of Philosophy impacts his current work in this post-panel Q&A. 
John Cates V (AB Philosophy '07, MBA Finance and Operations '11, JD '12) -- Triple Dawg John is the Chief Operations Officer and General Counsel for Meybohm Real Estate, one of the largest real estate development, management and brokerage companies in the Southeast and currently serves as Chairman of the Board for Apparo Academy, Augusta's first preschool for children with special needs. 
Dr. Anne Schaffer (AB Philosophy & Psychology '98) -- Anne is an associate professor of psychology at UGA. Her research currently focuses on the study of family and close relationships as contexts for risk and protection in development. Most recently, she approaches questions of how we measure and conceptualize parenting behaviors and the implications for research and clinical intervention. 
(pictured above, right to left: Cates, Ahumada, Altman, Schaffer, Meskin)