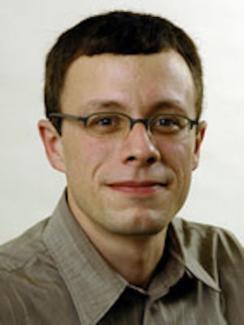 Dartmouth College Associate Professor of Philosophy and Cognitive Science, John Kulvicki will speak on "Reshaping the Arts of Space" in 115 Peabody Hall on Friday, October 25 at 3:30pm as part of the Scott & Heather Kleiner Lecture Series.
Kulvicki's work focuses primarily on perception and pictorial representation to explore the question, "How do we use pictures and other representations to learn about the world around us?" He is the author of On Images: Their Structure and Content (Clarendon 2006), an account of pictorial representation in terms of syntantic and semantic structure. His more recent book, Images (Roultedge 2014) provides a critical overview of theories of depiction and their relevance to other sub-disciplines of philosophy while addressing problems of mind and science.   
Kulvicki's explorations of perceptual content, consciousness, sound, and expression have been published in the Journal of Aesthetics and Art Criticism, Journal of Aesthetics and Art Criticism, American Philosophical Quarterly, as well as several edited volumes.
This talk focuses on three-dimensional statuary as an exemplar of space-invading figurative work, opening up new directions for philosophical investigation, new ways of understanding many figurative practices, and shedding light on non-figurative sculptural practices, the nature of tchotchkes, and much more.