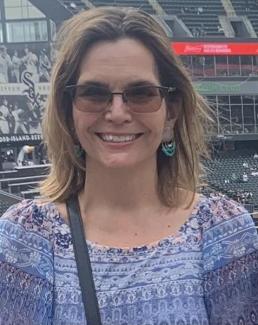 Elizabeth Millán Brusslan
Philosophy
DePaul University
Peabody Hall, Room 115
In my talk, I will analyze Humboldt's approach to nature in general, and his detailed, inspiring, and accurate depictions of the Latin American landscape in particular.  I will argue that Humboldt's presentation of the Latin American landscape helped to break-down the misleading accounts of America given by too many scholars of his generation, accounts that depicted America as nothing more than the dwelling place of beasts, a place far inferior, both culturally and naturally to Europe.  Humboldt's Naturgemälde allow the Latin American landscape to appear without the distorting prejudices that plagued most accounts of the period.  In his Naturgemälde, Humboldt not only depicts nature, but also gives clear analyses of some of the ways in which the landscape affected the culture of the people of the region he is presenting. 
Elizabeth Millán Brusslan is Professor and Chair of Philosophy at DePaul University.  She works on aesthetics, German Idealism/Romanticism and Latin American Philosophy.  Before joining the faculty at DePaul, Elizabeth worked at the Universidad Simón Bolívar in Venezuela (1997-98).  In 2004-5 Elizabeth was awarded an Alexander von Humboldt Fellowship and spent the year in Leipzig, Germany doing research on Alexander von Humboldt, focusing upon his view of nature and his presentation of America. 
Her publications include: Friedrich Schlegel and the Emergence of Romantic Philosophy (SUNY, 2007); with Bärbel Frischmann, Das neue Licht der Frühromantik/The New Light of German Romanticism (Schöningh Verlag, 2008); with Judith Norman, Brill's Companion to German Romantic Philosophy (2019), and The Palgrave Handbook of Germany Romantic Philosophy (2020). 
Recent articles include: "Nature and Freedom in Schlegel and Alexander von Humboldt," for Nature and Naturalism in Classical German Philosophy, eds. Luca Corti and Johannes-Georg Schülein (New York: Routledge, forthcoming 2022); "Diversity, Inclusion, and Gracia's Role in Shaping the Field of Latin American Philosophy," for A Collection of Individuals: The Philosophical Legacy of Jorge J.E. Gracia, ed. William Irwin (New York: Rowman and Littlefield, forthcoming 2022); "The Political Implications of Friedrich Schlegel's Poetic, Republican Discourse," in Practical Philosophy from Kant to Hegel, edited by James Clarke and Gabriel Gottlieb (Cambridge: Cambridge University Press, 2021): 174-191; "Locating the Divine in Us: Romantic Searches for the World Soul in the Wake of the Jacobi-Mendelssohn Debate," for Oxford Philosophical Concepts Series, The World Soul, edited by James Wilberding (Oxford: Oxford University Press, 2021): 232-257;  "Fichte and the Emergence of Early German Romanticism," in The Bloomsbury Companion to Fichte, edited by Marina Bykova (London: Bloomsbury, 2020): 459-473.
In 2014, Elizabeth was guest editor, with Hugo Moreno, of a special volume on Latin American Aesthetics for Symposium: Canadian Journal of Continental Philosophy, Vol. 18, No. 2, Fall 2014.  She is recently guest edited, with Jimena Solé, a special volume of Fichte Studien on Fichte in the Americas.  Elizabeth is also guest editor, with Jocelyn Holland, of a special volume on Uncertainty and German Romanticism for The Germanic Review, forthcoming 2023.
 Current projects include a manuscript, Understanding Alexander von Humboldt as a Romantic Critic of Nature.  Elizabeth is also working on, Lorca, Duende, and the Harlem Renaissance: A Study of Race, Pain, and the Promise of Poetry and a play bringing to life the relationship between Langston Hughes and Federico García Lorca.