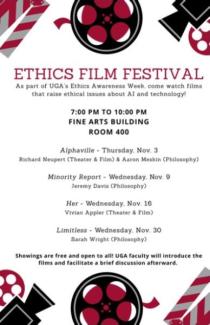 Fine Arts Building, Room 400
The Ethics Film Fest is a series of four film screenings taking place November 3-30  in conjunction with UGA's Ethics Awareness Week. All are invited to view films that raise ethical issues about Artificial Intelligence and technology. Select UGA faculty will introduce the films and facilitate a brief discussion afterwards. All screenings take place in room 400 of the Fine Arts Building and are free and open to the public. The schedule includes:
Thursday, November 3: Alphaville (introduced by Richard Neupert, Theatre & Film & Aaron Meskin, Philosophy)
Wednesday, November 9: Minority Report (introduced by Jeremy Davis, Philosophy)
Wednesday, November 16: Her (introduced by Vivian Appler, Theatre & Film)
Wednesday, November 30: Limitless 
introduced by Sarah Wright (Philosophy)
Neil Burger's Limitless (2011) asks viewers to consider a tempting offer: if you could take a drug that allows you to use your brain to its fullest capacity, would you? Eddie Morra (Bradley Cooper), a struggling writer in New York City, accepts such an offer and initially sees vast improvements to his life, but the consequences and side effects spiral out of control quickly and viciously. Limitless was nominated for numerous awards, including a People's Choice Award and a World Soundtrack Award, among others. The introduction and discussion of this film will be presented by Dr. Sarah Wright on November 30th.