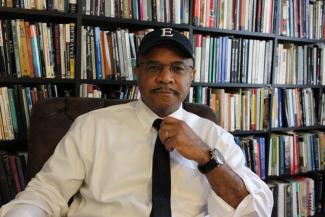 George Yancy
Philosophy
Emory University
Co-organized with the Institute of African-American Studies; online lecture, registration info below
Special Information:
online lecture: co-organized with the Institute of African-American Studies
Co-organized with the Institute of African-American Studies
Registration information below:
Abstract for "The Force of Love in the Face of White Supremacy":
In this presentation, I ask for white people to tarry with courage and love within a deeply uncomfortable space: the reality that there is no "white innocence." My objective is to move through spectacular forms of white racism and then question the ways in which non-spectacular "white innocence" works within the same logics of racist whiteness, whiteness as a binary structure that creates a problematic bifurcation: "Good whites versus Bad whites." James Baldwin speaks of love as removing masks that we are afraid to live without. I want to tarry within that space of white fear, to exhibit a form of courageous speech that is necessary at this moment in white America. While I am neither optimistic nor pessimistic, I am certain that a crisis, motivated by love, in the very structure of whiteness is necessary.  
George Yancy is the Samuel Candler Dobbs Professor of Philosophy at Emory University, a Montgomery Fellow at Dartmouth College, one of the College's highest honors, and the University of Pennsylvania's Inaugural Provost's Distinguished Visiting Faculty Fellow. He is the author, edited and co-editor of over 20 books. Three of his books have received CHOICE Academic Title Awards. He has twice won the American Philosophical Association Committee on Public Philosophy's Op-Ed Contest, his book Black Bodies, White Gazes received an Honorable Mention from the Gustavus Myers Center for the Study of Bigotry and Human Rights, and his coedited book, Our Black Sons Matter was listed by Booklist as a Top 10 Diverse Nonfiction book. Yancy has authored over 150 articles, chapters, and scholarly interviews. He is a nationally and internationally known philosopher and public intellectual who frequently writes essays and conducts interviews at The New York Times, The Stone, and Truthout.  
Register in advance for this meeting:
After registering, you will receive a confirmation email containing information about joining the webinar.
Registration link:
https://zoom.us/webinar/register/WN_njgIkemTQFOUWNt-6Kc0Eg
Or an H.323/SIP room system:
H.323: 
162.255.37.11 (US West)
162.255.36.11 (US East)
115.114.131.7 (India Mumbai)
115.114.115.7 (India Hyderabad)
213.19.144.110 (Amsterdam Netherlands)
213.244.140.110 (Germany)
103.122.166.55 (Australia Sydney)
103.122.167.55 (Australia Melbourne)
149.137.40.110 (Singapore)
64.211.144.160 (Brazil)
69.174.57.160 (Canada Toronto)
65.39.152.160 (Canada Vancouver)
207.226.132.110 (Japan Tokyo)
149.137.24.110 (Japan Osaka)
Meeting ID: 942 1942 5644
Passcode: 604905
SIP: 94219425644@zoomcrc.com
Passcode: 604905