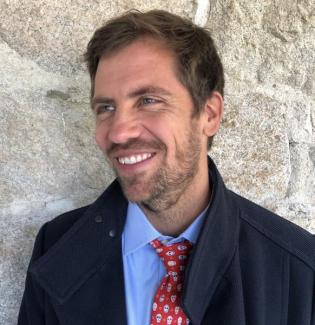 Antón Barba-Kay
Philosophy
Catholic University
Online lecture, advanced registration info below.
Special Information:
Online lecture, advanced registration required
Scroll down for information on how to register for this event. Advance registration is required.
Abstract for Antón Barba-Kay's

"The Religion of Boredom in Kierkegaard's Either/Or":
Most discussions of boredom—both in the context of Kierkegaard's Either/Or and at large—state the issue within a predictable dyadic structure. On the one hand, boredom is sketched out as a distinct kind of modern evil, as a mood that we are all desperate to avoid at all costs. On the other hand, boredom is enlisted as a motivating source of its own antidotes: meaning, maturity, aesthetic creativity, and so on. In sum: boredom is bad, but it can help us keep things interesting. I'd like to argue here that this dyadic or "bi-polar" structure is inadequate to describing both A's and Kierkegaard's view of boredom. So far from being a cure for boredom, A's "Rotation of Crops" exhibits the ways in which what is stimulating, amusing, and otherwise interesting and what is boring are, in fact, mutually entailing. Boredom is, in this sense, a problem that cannot be overcome by seeking out its opposite. It is anti-dialectical (or what Hegel calls a "bad infinite"): the pursuit of meaning is presented by A as a task for subjectivity in precisely the dyadic structure that calls boredom forth. There is no third position from which to resolve or transform an opposition posed within such terms. For A, this is a distinct kind of modern aporia: an experience of authenticity through the open-ended pursuit of variety. But for Kierkegaard, this aporia also suggests an encounter with and realization of eternity—it is the "immediacy" that the aesthetic and the religious have in common.
Antón Barba-Kay is Associate Professor of Philosophy at The Catholic University of America, in Washington, D.C. (He is also, at the moment, Visiting Professor of Humanities at Deep Springs College, in California.) He earned his Ph.D. from the University of Chicago's Committee on Social Thought, with a dissertation on Hegel's Phenomenology of Spirit. The bulk of his research has concentrated on the subjects of recognition and aesthetics in nineteenth-century German philosophy. He is also writing a book about the political and philosophical implications of the digital revolution. 
Register in advance for this meeting at the below link.

After registering, you will receive a confirmation email containing information about joining the meeting:
https://zoom.us/meeting/register/tJEqcOuppjMoHdEgOAgrOIVYt9xZBihe8Vlr