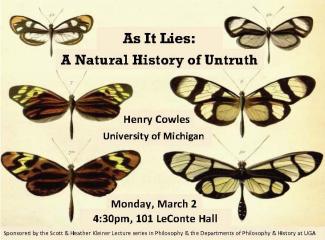 *LeConte Hall, Room 101
Guest lecture featuring Henry M. Cowles, sponsored by the Departments of History and Philosophy and the Scott and Heather Kleiner Lecture Series in Philosophy Fund.
Henry Cowles (Assistant Professor, University of Michigan) is a historian of modern science and medicine. His research and teaching focus on the sciences of mind and brain, evolutionary theory, and the experimental ideal in the United States and Great Britain. His book, The Scientific Method: An Evolution of Thinking from Darwin to Dewey, is forthcoming from Harvard University Press in Spring 2020.