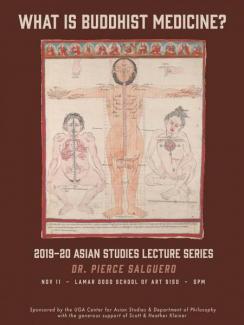 Pierce Slaguero
University of Pennsulvania at Abington
Lamar Dodd School of Art S150
Special Information:
This lecture takes place in the Lamar Dodd School of Art, Room S150
The Department of Philosophy and Centre for Asian Studies are pleased to present Pierce Salguero speaking on the multifaceted tradition of "Buddhist medicine" on November 11, at 5pm, in the Lamar Dodd School of Art. His talk, "What is Buddhist medicine?" will introduce a range of Buddhist ideas, practices, and other cultural and social formations connected to the problem of illness and its addressal that have been popular with Buddhists across cultures. Emerging via centuries of interplay, borrowing, and translation between Asian cultures, this body of healing knowledge, as Salguero argues, represents the "missing link" in the history of Asian medicine. 
Pierce is a transdisciplinary medical humanities scholar who explores historical and contemporary intersections between Buddhism, medicine, and cross-cultural exchange. He teaches Asian history, medicine, and religion at Penn State University's Abington College, located near Philadelphia. The major theme in his scholarship is discovering the role of Buddhism in the global transmission and local reception of knowledge about health, disease, and the body.
This interdisciplinary lecture is supported by the Scott and Heather Kleiner Lecture Series in Philosophy Fund, the Department of Philosophy, and the Center for Asian Studies at UGA. It is free and open to the public.