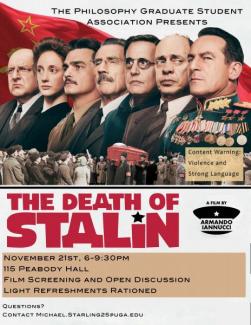 Peabody Hall, Room 115
The Philosophy Graduate Student Association presents "The Death of Stalin," 2018's critically-acclaimed, revisionist-history black comedy from Armondo Ianucci. The public is invited to enjoy this contemporary classic lauded for its poignant political commentary on the horrors of political power-mongering in the face of the passing of one of history's most reviled tyrants.
This is part of the first installment of the Film & Philosophy Series. The theme for this series is "On Catastrophe." The public is invited to attend this screening followed by a short discussion. Light refreshments will be provided. Contact Michael.Starling25@uga.edu for more info.