Professor Emeritus (deceased)
Dr. Frederick Ferré passed away in Spring 2013. Professor Emeritus of the Department of Philosophy, his wide-ranging contributions to environmental philosophy were invaluable to the development of the department. Frederick Ferré was one of the founding fathers of the Environmental Ethics Certificate Program for which he continued to offer insight and encouragement until his untimely death. He is sorely missed by many.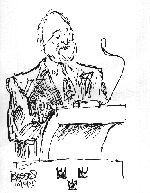 Education

Education:

Oberlin College, 1950-51.
Boston University, A.B. (major History) summa cum laude, 1954
Vanderbilt University, M.A. (Philosophy of History) 1955.
Vanderbilt University Divinity School (Theological Studies) 1955-56.
University of St. Andrews (Scotland), Ph.D. (Philosophy of Religion) 1959.
Research

Research Interests:

Metaphysics
Epistemology
Philosophy of Religion
Technology and Values
Environmental Ethics