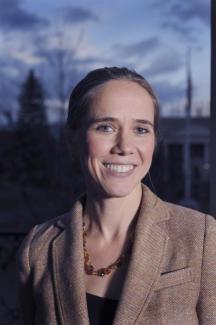 Colby College associate professor of philosophy Lydia Moland will speak on "Life in Art: Hegel on the Organic in Architecture" in 115 Peabody Hall on Wednesday, February 20 at 7:30pm as part of the Scott & Heather Kleiner Lecture Series. Moland is a philosopher of art, contemporary ethics, German Idealism, and social & political philosophy with expertise in the work of 18th-19th century German philosopher Georg Wilhelm Friedrich Hegel.  
Moland's work has covered topics including comedy, patriotism & nationalism, idealism, aesthetics, race, and poverty. She has also addressed the work of Immanuel Kant, contemporary American author Philip Roth, and contemporary American philosopher Christine Korsgaard, among others.
This lecture discusses Hegel's view of architecture as the first of the "individual arts," addressing themes including the role of the organic, the imitation of nature, and the definition of space and how these themes might be relevant in contemporary architecture.